Saints Of The Day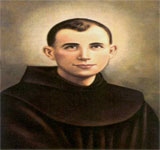 Blessed Claudio Granzotta
Born in Santa Lucia del Piave near Venice, Claudio was the youngest of nine children and was accustomed to hard work in the fields.
Read More
06-09-2016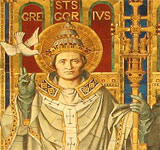 St. Gregory the Great
Ordained a priest, he became one of the pope's seven deacons, and also served six years in the East as papal representative in Constantinople.
Read More
03-09-2016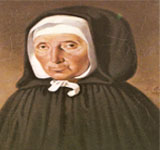 St. Jeanne Jugan
Soon thereafter she joined a third order group founded by St. John Eudes (August 19).
Read More
30-08-2016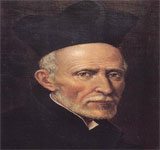 St. Joseph Calasanz
A combination of various prejudices and political ambition and maneuvering caused the institute much turmoil.
Read More
26-08-2016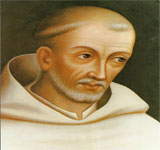 St. Bernard of Clairvaux
Shortly thereafter it was Bernard who intervened in a full-blown schism and settled it in favor of the Roman pontiff against the antipope.
Read More
20-08-2016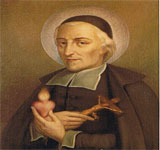 St. John Eudes
How little we know where God's grace will lead. Born on a farm in northern France, John died at 79 in the next "county" or department.
Read More
19-08-2016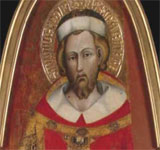 St. Hippolytus (Pontian and Hippolytus)
During his reign he held a synod which confirmed the excommunication of the great theologian Origen in Alexandria.
Read More
13-08-2016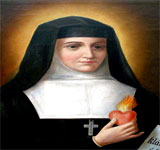 St. Jane Frances de Chantal
Jane's husband was killed after seven years of marriage, and she sank into deep dejection for four months at her family home.
Read More
12-08-2016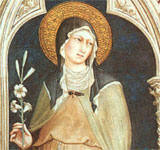 St. Clare of Assisi
Having refused to marry at 15, she was moved by the dynamic preaching of Francis. He became her lifelong friend and spiritual guide.
Read More
11-08-2016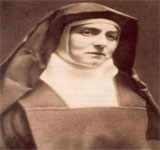 Edith Stein
Twelve years later she imitated Teresa by becoming a Carmelite, taking the name Teresa Benedicta of the Cross.
Read More
09-08-2016