Upcoming Projects of Grace Ministry in Mangalore
Upcoming Projects
---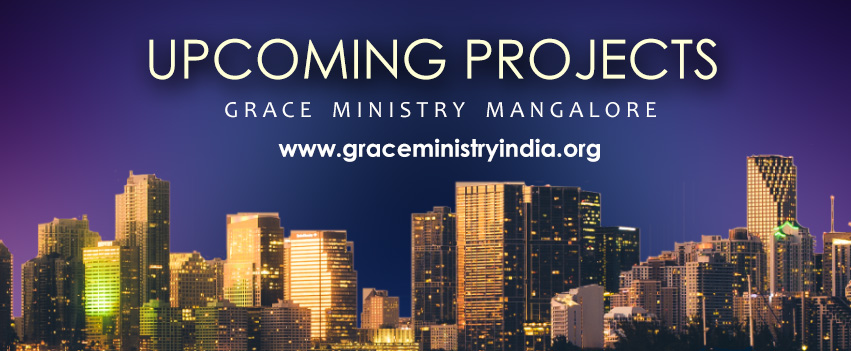 Grace Ministry Mangalore is a Spirit-Led, Prayer-Believing and Word-Centered Ministry with the Divine goal of changing our world through the power of prayer. The centre which started as a preaching ministry, has now evolved into a home of love by the providence of God.

Grace Ministry also has trained counseling team to initiate spiritual awakening and to offer practical guidance to retreatants.

The Lord appeared in a vision to both Bro Andrew and Sis Hanna and commissioned them to raise the Grace Prayer Centre, followed by which Bro Andrew envisioned the future Grace Ministerial ventures.

The following are the upcoming projects of the Ministry:

The Grace Mega Prayer Retreat Centre:
It Consists of,
Vast Prayer Hall & Conference Rrooms
Lounge
Residential rooms
Oratory
Large dining room
Lift to all floors
Large floral garden
Walking Lanes
Bookshop

Grace Old Age Homes:

This service project of Grace Ministries, was the dream of Richard couples, to shelter and care for the aged and handicapped who do not have any support and are unable to look after themselves. The old age home is going to be dependent entirely on the support from the Church people. The running expenses of the old age home are going to be met by the donations in cash or monthly provisions from the congregations.

Dialysis equipment Donation:

Dialysis machines provide a lifeline to kidney patients. And Grace Ministry aims at providing this lifeline to many poor patients free of cost. As we plan to expand our dialysis programmes, we'll need new dialysis machines because continuous usage wears down the dialysis machines, which have a limited lifespan of 30,000 hours or eight years of service. Hence, the dialysis machines have to be replaced constantly to ensure patients receive optimum treatment.
Every dollar you donate goes entirely to our patient care!!

Grace Primary Education Centre:

Poverty is the reason many people in India become destitutes. Such poverty leaves an indelible mark upon their lives. Poverty shatters future dreams and annihilates hope. Grace Ministry has set its mission to provide free education for eligible students who are unable to afford private tuition and school kits. Each school kit will be comprised of a new school bag with some essential items including stationery & water bottles.

Most importantly "Counseling" is also an integral part of the ministry. A close ear is given to the problems of every individual or family, be it be related to personal, medical or spiritual issues and subsequent guidance is given as required.

Your generous contribution towards the Grace Prayer Center will strengthen us to make this place a new divine locale. Your name will be engraved in the prayer center, encouraging everyone to understand the blessings that God bestows on His children who take great effort in building the House of God.

We will assuredly pray for you and for your family. Nevertheless, every person who walks into Grace Prayer Center will thank the Lord for making all donors a channel of blessing to this ministry.
Grace ministry is committed to helping people from all walks of life experience the unconditional love and unending hope found with Jesus Christ. Our power lies in our ability to work together, for each other. So Let's prove WE CAN make a difference!


Grace Ministry believes that your offering belongs to various services of the ministry. Your donations to the ministry are received as offerings to support the preaching of the gospel, as well as the ministry's humanitarian outreaches.