Bangalore: Woman rescued from Suicidal Attempt through Grace Ministry WhatsApp prayer line.
Rescued from Suicide - Bangalore
31-01-2020
---
Highlights
*My sister attempted suicide at our Bangalore Residence.
*Our family Lost all hopes of getting her back alive.
*One text message from Grace Ministry Whatsapp line encouraged us.
*Bro Isaac Richard's message of courage provided us strength and hope.
*My sister got her life back, and now shes's perfectly stable.
---
Testimony of a dear brother from Bangalore whose sister attempted for suicide got back her life after prayers at Grace Ministry, Bro Isaac Richard through WhatsApp prayer line.
Praise God! Am testifying on behalf of my sister, who attempted to suicide by hanging herself in Bangalore residence with the help of a rope due to a really silly family issue.
We took her to quite a number of hospitals in the city and beyond too, but none could give any hopes of her survival. We were then told by the Doctors that her vitals were dropping down and more chances of memory being lost. It was then an unknown lady came forward and acknowledged us about the power of prayers and Grace Ministry, after which without any further delay, I contacted their prayer lines.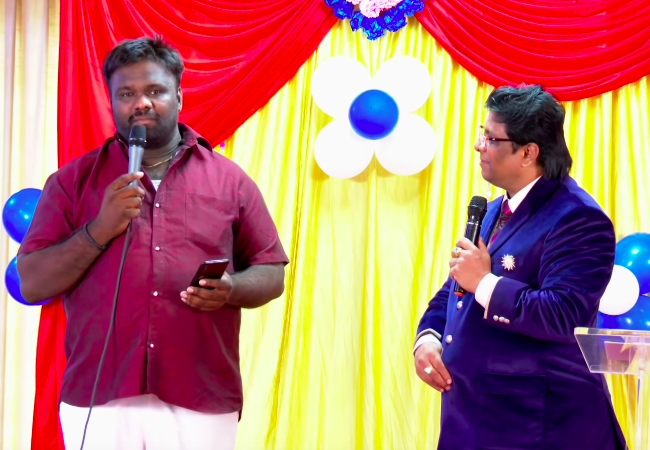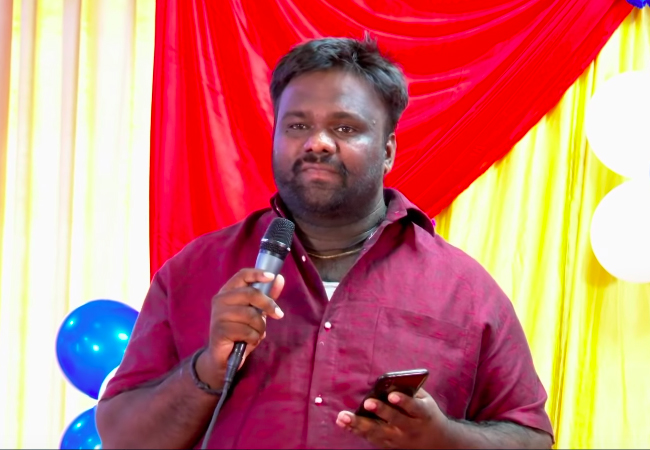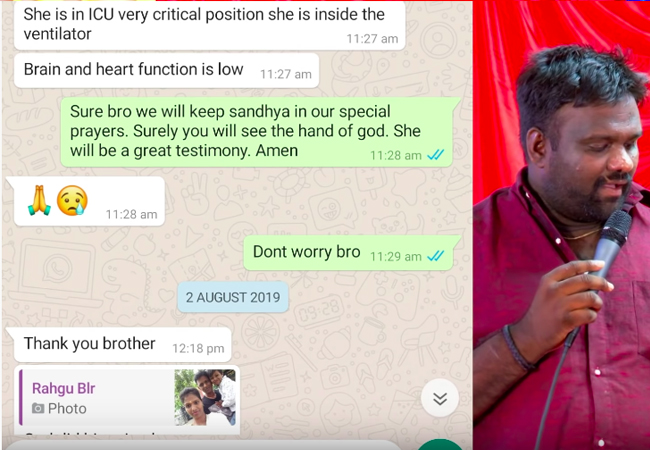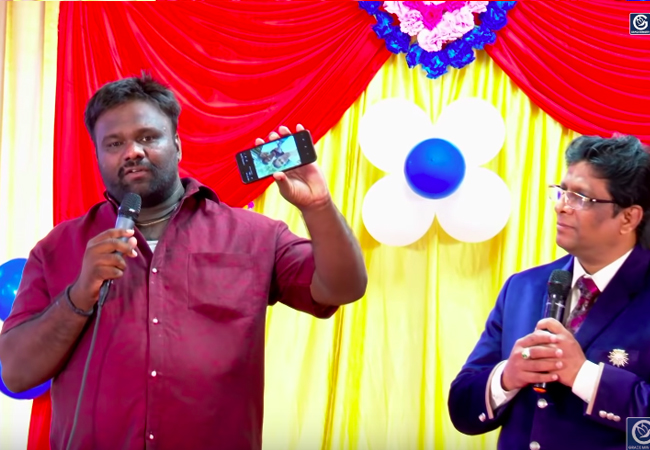 LIVE TESTIMONY VIDEO
Bro Isaac from Grace Ministry corresponded to our grief and consoled us at the same time on WhatsApp and kept my sister in their prayers. By God's grace, I somehow managed to arrange the financial aid required for the medical expenses. But Doctors were asking us to proceed for a higher surgical operation, for which we disagreed and were in a complete dilemma. It was then Bro Isaac, who encouraged us to pray continually no matter what the situation was and we did so. A few days later, when examined through an MRI, there was an actual upgrade in her health report's status followed by which another consistent report revealed that she's absolutely healthy and stable enough to carry on with her life activities.
When you seek God's presence and request Him to intervene in your situation, you can see miracles happen! God has power over all creation and can work a miracle for you.
'But he took her by the hand and said, "My child, get up!" Her spirit returned, and at once she stood up' ~ Luke 8-54,55
My family and I started growing spiritually through Bro Andrew Richard's Sermons:
Bro Andrew and his ambrosial talks are life-changing. The way he envisions and preaches makes an exact resemblance like a CCTV camera recording every input and outputs of my life; also, his prophecies are tremendous. I have grown so much more spiritually, and my faith has enormously increased. All glory to the Lord alone!!