Sponsor: Help the 6-year-old boy to go to school in Mangalore
Help - Educate a Child
11-06-2017
---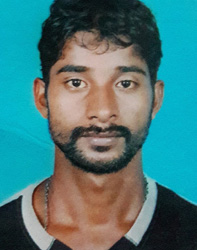 PRAVEEN
Sponsor for the Education of a 6-year-old boy who lost his father after he fell from a coconut tree in Mangalore. Education is the road that children follow to reach their full potential in life.
Praveen, a daily wage laborer who lived in Attavar was known to be a man of self-dependency, out of which he managed to take care of his wife, a 6-year old son and his mother. However, as destiny sometimes chooses to play the devil, it has turned out that Praveen lost his life as he fell from a coconut tree. Praveen fought for his life for 6 continues days in a state of a coma but gave up after a fierce struggle.
We often fail to be grateful for the innumerable blessings we have in life. Apparently, not all of them are as comfortable in life as we are, and here is one small opportunity for us to make life better for someone around us.
Praveen's 25-year-old wife, son and an expected child are now inevitably in a position from where any form of help will look like a great deed. From paying rent to the kid's school fees, the 25-year-old lady has to now bear the sole responsibility. Hence, if you count yourself blessed enough to extend a helping hand, this is a kind appeal to do so.
Kindly send your remittances to his following Bank account:
Account No. : 0651131000136
Name: Sowmya
Name of the Bank: Canara Bank
Branch: Kankanady, Mangaluru
IFSC Code: CNRB0000651
Phone: +91 7348849069
Residential Address:
Sowmya, C/o Seetharam Anchan,
Shanta Alva Compound,
Amar Alva Road,
Attavara, Mangalore