Mangalore: Home Guard staff, Champa requires your charity help !!
Charity Help - Home Guard Staff - Champa, Mangalore.
25-04-2020
---
Champa, a Home guard staff, regularly seen at Nantoor Junction, Mangalore requires your charity help as she is unable to walk due to serious disc issue.
She handled to work as a home guard for the past 26 years. She joined work for a small salary of Rs 12. For the past 11 years, Champa used to execute her duties as a traffic home guard attached to Kadri traffic police station.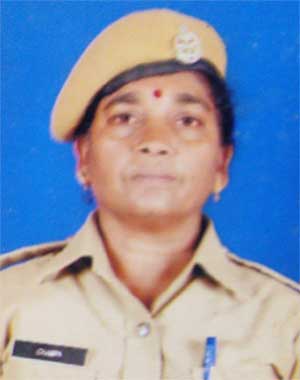 Various organizations recognize Champa's dedication towards her work. More than 20 organizations compliment her for her braveness in working at the toughest traffic circle of Nanthoor in the city since last six years.
Now Champa is not able to work for two months as she is sick. She is not able to even get up and walk at present. Her body, below the waist, has lost its strength. Doctors have diagnosed that she has a disc problem.
Champa is unmarried and has lost her parents. At present, she is residing with her younger sister, whose husband Udaya is also suffering from Kidney related ailment in addition to a heart condition. Champa's sister works as a housemaid. Because of both Champa and her brother-in-law Udaya falling sick and not able to even get out of the house, the whole family is in dire straits. Champa's sister has two children. If the family makes enough to buy medicines, they will have to starve. If they eat food, then there is no money left for medicines of both Champa and Udaya.
The present coronavirus lockdown has strained the family into further trouble as the only earning member, sister of Champa is also not able to go for work.
Those who wish to donate and help Champa may send their contributions to the following bank account details which also includes her Mobile number,
Champa Chammagarthi
Bank A/c no: 20210215667
IFSC code: SBIN0000871
Bank: State Bank of India
Branch: State Bank
Mobile number: 8123869879