Help 6-Year-old Motherless Child who needs Liver Transplant To Survive
Liver Transplant
05-12-2018
---
Highlights
►Help 6-Year-old Motherless Child who Needs Urgent Liver Transplant To Survive
►Vetrimaran cries for his mother and longs to go back to his normal life
►Vetrimaran's father, a poor farmer, cannot afford the life-saving transplant for his son
►Goal Amount Rs.2,050,000. So far raised Rs.1,119,696
---
6-year-old Vetrimaran never had a normal life like other children his age. He suffered from breathlessness and painful swelling of his stomach since he was 1-year-old. He also had jaundice, due to which he could not play with other children. He falls short of breath within few minutes of running.
His only companion was his mother, who took care of him and comforted him all the time. Unfortunately, his mother passed away suddenly due to an undiagnosed condition, leaving him shattered. He innocently prays to God every night to send his mother back to him. Sadly for the little boy, he has endured only pain in these last two years. Now, he's fighting for his life because of a deadly disease, and every time he gets painful injections, he cries for his mother. Only an urgent liver transplant can relieve the little boy from his pain.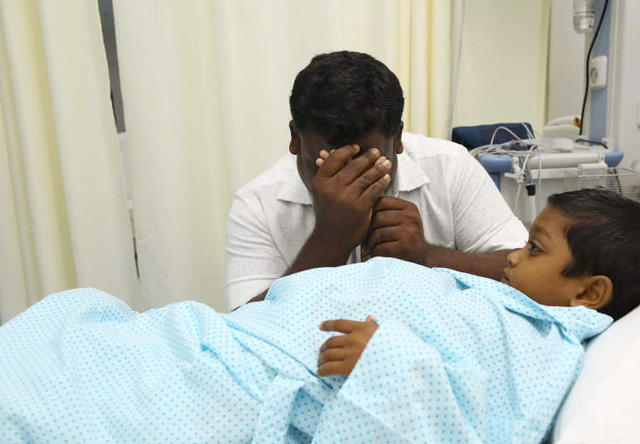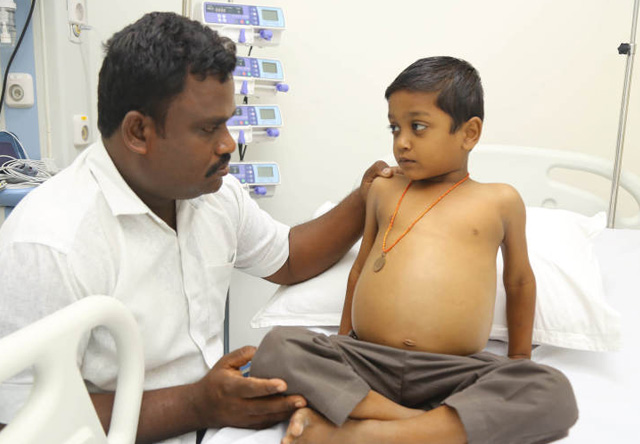 Vetrimaran was healthy until he turned one year. Soon after his first birthday, he fell very sick and his stomach had an abnormal swelling. His father, Prabhu, took him to a local doctor in his village in Kanchipuram district. The doctors said that the swelling is due to jaundice and he was given medicines. Prabhu was hopeful that he would become better one day, but a month back his condition became very critical. He started throwing up even water and lost all his energy. He couldn't even stand on his own. It was then that his father took him to a hospital in Chennai and he was diagnosed with Hepatic fibrosis, an overly exuberant wound healing in which excessive connective tissue builds up in the liver. It occurs when the healthy tissue of the liver becomes scarred and therefore cannot work as well. Liver transplant is the only solution to save him from this dreadful disease.
Vetrimaran is the only child to his parents and they were very protective of him. He has never played outside with other children. He loves to listen to the stories that his mother used to tell him and remembers the name of all the characters in the stories. Unfortunately, his mother did not live to see him going to school. He studies in 1st grade but most of the days he has not been able to attend class because of extreme tiredness. After his mother's loss, it was his grandmother who filled her absence and she is also a matching donor for the transplant
6-year-old Vetrimaran, who lost his mother 2 years ago, is now fighting a dreadful liver disease. He needs an urgent liver transplant to survive. His grandmother is a matching donor but his poor father is left with nothing to save his only son. He is desperately waiting for help. This little boy, who has been suffering for years will lose his life without your support.
You can also do a bank transfer to the below mentioned account setup for this fundraising campaign:
Account number: 8080811055533
Account name: Prabhu
IFSC code: YESB0CMSNOC
Source: Milaap