Saint of the Day Online - St Raymond Nonnatus
Saint of the day online, Thursday, August 31, 2017
26-08-2017
---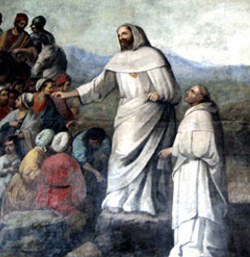 Saint Name: St Raymond Nonnatus
Place: Crown of Aragon, Spain
Birth: 1204
Death: August 31, 1240
Feast: August 31
St Raymund Nonnatus, O. de M.(1204 – 31 August 1240) is a saint from Catalonia in Spain. His nickname refers to his birth by Caesarean section, his mother having died while giving birth to him.
Raymund is the patron saint of childbirth, midwives, children, pregnant women, and priests defending the confidentiality of confession.
Raymond was born at Portella, Catalonia, Spain. He was delivered by caesarean operation when his mother died in childbirth. Hence his name non natus (not born). He joined the Mercedarians under St. Peter Nolasco at Barcelona. He succeeded Peter as chief ransomer and went to Algeria to ransom slaves. He remained as hostage for several slaves when his money ran out and was sentenced to be impaled when the governor learned that he had converted several Mohammedans. He escaped the death sentence because of the ransom he would bring, but was forced to run the gauntlet. He was then tortured for continuing his evangelizing activities but was ransomed eight months later by Peter Nolasco.
According to the traditions of the Mercedarian Order, he was born in the village of Portell, in the Diocese of Urgell. He was taken from the womb of his mother after her death, hence his name. Some traditions describe him as the son of the local Count, who is traditionally credited as the one to have performed the surgery which saved his life, others that he was born in a family of shepherds. His well-educated father planned a career for his son at the royal court of the Kingdom of Aragon. When the boy felt drawn to religious life, his father ordered him to manage one of the family farms. What is known is that Raymond spent his childhood tending sheep and would often pray at an ancient country chapel nearby dedicated to St. Nicholas. If he was of aristocratic descent, clearly his father eventually abandoned hopes for his son's social advancement.
One particular devotion is centered around the padlock that is part of his martyrdom. Locks are placed at his altar representing a prayer request to end gossip, rumours, false testimonies and other sins of the tongue. The locks are used as a visible sign of such prayer request, which first and foremost must take place interiorly, a prayer to God through St. Raymond's intercession.
St Raymond Nonnatus feast day is 31st August.