Saint of the Day Online - St Matthew
Saint of the day online, Thursday, September 21, 2017
21-09-2017
---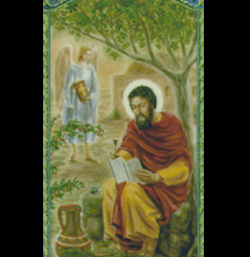 Saint Name: St Matthew
Place: ---
Birth: ---
Death: ---
Feast: September 21
St Matthew the Apostle is also known as Saint Matthew and as Levi was one of the twelve apostles of Jesus and, according to Christian tradition, one of the four Evangelists.
Little is known about St. Matthew, except that he was the son of Alpheus, and he was likely born in Galilee. He worked as a tax collector, which was a hated profession during the time of Christ.

According to the Gospel, Matthew was working at a collection booth in Capernaum when Christ came to him and asked, "Follow me." With this simple call, Matthew became a disciple of Christ.

From Matthew we know of the many doings of Christ and the message Christ spread of salvation for all people who come to God through Him. The Gospel account of Matthew tells the same story as that found in the other three Gospels, so scholars are certain of its authenticity. His book is the first of the four Gospels in the New Testament.

Many years following the death of Christ, around 41 and 50 AD, Matthew wrote his gospel account. He wrote the book in Aramaic in the hope that his account would convince his fellow people that Jesus was the Messiah and that His kingdom had been fulfilled in a spiritual way. It was an important message at a time when almost everyone was expecting the return of a militant messiah brandishing a sword.
The New Testament records that as a disciple, he followed Jesus, and was one of the witnesses of the Resurrection and the Ascension of Jesus. Afterwards, the disciples withdrew to an upper room (Acts 1:10–14)(traditionally the Cenacle) in Jerusalem.[6] The disciples remained in and about Jerusalem and proclaimed that Jesus was the promised Messiah.

In the Babylonian Talmud (Sanhedrin 43a) "Mattai" is one of five disciples of "Jeshu".

Later Church fathers such as Irenaeus (Against Heresies 3.1.1) and Clement of Alexandria claim that Matthew preached the Gospel to the Jewish community in Judea, before going to other countries. Ancient writers are not agreed as to what these other countries are. The Roman Catholic Church and the Orthodox Church each hold the tradition that Matthew died as a martyr,although this was rejected by the gnostic heretic Heracleon as early as the second century.