Saint of the Day Online -St John Eudes
Saint of the day online, Saturday, August 19, 2017
18-08-2017
---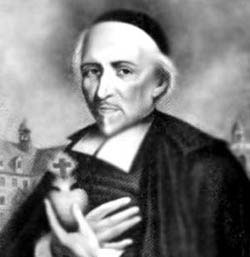 Saint Name: St John Eudes
Place: Normandy, Kingdom of France
Birth:14 November 1601
Death:19 August 1680
Feast: August 19
St John Eudes was a French missionary and priest, who founded the Congregation of Jesus and Mary and the Order of Our Lady of Charity, and was the author of the propers for the Mass and Divine Office of the Sacred Hearts of Jesus and Mary. He has been declared a saint by the Catholic Church.
Eudes was born in 1601 on a farm near the village of Ri, in Normandy, the son of Isaac and Martha Eudes. After studying with the Jesuits at Caen, Eudes joined the Oratorians on 25 March 1623. His masters and models in the spiritual life were Pierre de Bérulle and the mystic Charles de Condren. As a student of de Bérulle, Eudes is a member of the French School of Spirituality. The French School was not a system or philosophy, but a highly Christocentric approach to spirituality, characterized by a sense of adoration, a personal relationship with Jesus, and a rediscovery of the Holy Spirit.
At age 32, Eudes became a parish missionary, preached over 100 parish missions, throughout Normandy, Ile-de-France, Burgundy and Brittany. He was called by Jean-Jacques Olier "the prodigy of his age".
In his parish mission work, Eudes was disturbed by the situation of prostitutes who sought to escape their life. Temporary shelters were found but arrangements were not satisfactory. A certain Madeleine Lamy, who had cared for several of the women, one day challenged him to address the problem. In 1641 he founded the Sisters of Our Lady of Charity of the Refuge in Caen, Normandy to provide a refuge for prostitutes who wished to do penance. Three Visitation nuns came to his aid temporarily, and in 1644, a house was opened at Caen under the title of Our Lady of Charity. Other ladies joined them, and in 1651, the Bishop of Bayeux gave the institute his approbation. The congregation was approved by Pope Alexander VII on 2 January 1666. It later also included a convent from which, in 1829, Sister Mary Euphrasia Pelletier established the Congregation of Our Lady of Charity of the Good Shepherd, better known as the Sisters of the Good Shepherd.
St John Eudes feast day is August 19th.