Saint of the Day Online - St Gerard Majella
Saint of the day online, Monday, October 16, 2017
15-10-2017
---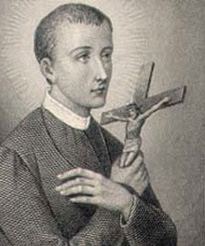 Saint Name: St Gerard Majella
Place: Kingdom of Naples
Birth: April 6, 1726
Death: October 16, 1755
Feast: October 16
St Gerard Majella who was born on April 6, 1726, was an Italian lay brother of the Congregation of the Redeemer, better known as the Redemptorists, who is honored as a saint by the Catholic Church.
His intercession is sought for children, unborn children, women in childbirth, mothers, expectant mothers, motherhood, falsely accused people, good confessions, lay brothers and Muro Lucano, Italy.
Majella grew up in a poverty with a great respect for the poor. As he was just 12 when his father passed away, he was forced to grow up fast. Shortly after his father's death, his mother sent him away to live with his uncle and learn to become a tailor, like his father. After a few years of working as a sewing apprentice, Majella took on a job with the local Bishop of Lacedonia as a servant.
Once Majella began earning money as a journeyman at the age of 21, he split his earnings with his mother, the poor of Muro and the rest in offerings for the poor souls. As the days passed, Majella began to grow pale and thin, often fasting and in prayer at a nearby Cathedral. He applied to the Capuchin monastery at Muro twice, but was turned down both times. Majella was told his health was not well enough for such a strenuous life. However, Majella did not give up. In 1749, at the age of 23, he joined the Congregation of the Most Holy Redeemer and just three years later became a professed lay brother.
Majella lived with the three vows of Poverty, Chasity and Obedience. He stayed close with the poor and worked very many different jobs. He served as sacristan, gardener, porter, infirmarian, and tailor. However, because of his great piety, extraordinary wisdom, and his gift of reading consciences, he was permitted to counsel communities of religious women. Majella was often called on by the poor and the sick. Wherever his presence was demanded he graciously presented himself. He was there to "do the Will of God."
This humble servant of God also had faculties associated with certain mystics including, levitation, bi-location and the ability to read souls. His charity, obedience, and selfless service as well as his ceaseless mortificationfor Christ, made him the perfect model of lay brothers.
Throughout his years of life, several reported miracles are tied to Majella including, restoring a boy's life after he fell from a high cliff; blessing a poor farmer's crops, ridding it of mice; blessing a poor family's supply of wheat, causing it to last until the next harvest; and he multiplied bread for the poor on several occasions.At age of 27, Majella became the subject of a malicious rumor. An acquaintance named Neria accused him of having had relations with a young woman. When confronted by Alphonsus Liguori, the founder, regarding the accusations, the young lay brother remained silent. The girl later recanted and cleared his name.
Some of Majella's reported miracles include: restoring life to a boy who had fallen from a high cliff; he blessed the scanty supply of wheat belonging to a poor family, and it lasted until the next harvest; several times he multiplied the bread that he was distributing to the poor. One day he walked across the water to lead a boatload of fishermen through stormy waves to the safety of the shore. He was reputed to have had the gift of bilocation and the ability to read souls.
Majella's last will consisted of a small note on the door of his cell saying, "Here the will of God is done, as God wills, and as long as God wills." He died on October 16, 1755