Saint of the Day Online - St Fillan
Saint of the day online, Friday, January 19, 2017
19-01-2018
---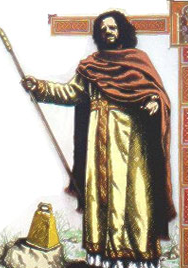 St Fillan of Munster, the son of Feriach, grandson of Cellach Cualann, King of Leinster, received the monastic habit in the Abbey of Saint Fintan Munnu and came to Scotland from Ireland in 717AD as a hermit along with his Irish princess-mother St. Kentigerna, his Irish prince-uncle St. Comgan, and his siblings. They settled at Loch Duich. Fillan later moved south and is said to have been a monk at Taghmon in Wexford before eventually settling in Pittenweem (the Place of the Cave), Fife, in the east of Scotland later in the 8th century.
St. Fillan was the abbot of a monastery in Fife before retiring to Glen Dochart and Strathfillan near Tyndrum in Perthshire. At an Augustinian priory at Kirkton Farm along to the West Highland Way, the priory's lay abbot, who was its superior in the reign of William the Lion, held high rank in the Scottish kingdom. This monastery was restored in the reign of Robert I of Scotland (Robert the Bruce), and became a cell of the abbey of canons regular at Inchaffray Abbey. The new foundation received a grant from King Robert, in gratitude for the aid which he was supposed to have obtained from a relic of the saint (an arm-bone) on the eve of the great victory over King Edward II's English soldiers at the Battle of Bannockburn. The saint's original chapel was up river, slightly northwest of the abbey and adjacent to a deep body of water which became known as St. Fillan's Pool.
Various legends attribute the most extravagant miracles to him, such as the one in which his prayers caused a wolf that had killed the ox he was using to drag materials to the church he was building, to take the ox's place. Fillan died on January 19. His feast day is January 19.