Saint of the Day Online - St. Brigid of Ireland
Saint of the Day - Feb 01, 2017
31-01-2017
---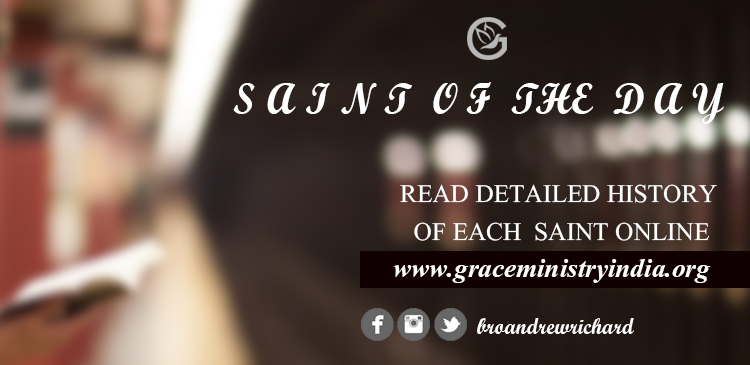 Saint Brigid was born Brigit, and shares a name with a Celtic goddess from whom many legends and folk-customs are associated.
There is much debate over her birth parents, but it is widely believed her mother was Brocca, a Christian baptised by Saint Patrick, and her father was Dubthach, a Leinster chieftain. Brocca was a slave, therefore Brigid was born into slavery.
When Dubthach's wife discovered Brocca was pregnant, she was sold to a Druid landowner. It is not clear if Brocca was unable to produce milk or was not present to care for Brigid, but legend states Brigid vomited any food the druid attempted to feed her, as he was impure, so a white cow with red ears sustained her instead.
Many stories of Brigid's purity followed her childhood. She was unable to keep from feeding the poor and healing them.
Brigid and seven friends organised communal consecrated religious life for women in Ireland and she founded two monastic institutions, one for men and one for women. Brigid invited a hermit called Conleth to help her in Kildare as a spiritual pastor.
Her biographer reported that Brigid chose Saint Conleth "to govern the church along with herself."
She later founded a school of art that included metal work and illumination, which Conleth led as well. It was at this school that the Book of Kildare, which the Gerald of Wales praised as "the work of angelic, and not human skill," was beautifully illuminated, but was lost three centuries ago.
There is evidence that Brigid was a good friend of Saint Patrick's and that the Trias Thaumaturga claimed, "Between St. Patrick and Brigid, the pillars of the Irish people, there was so great a friendship of charity that they had but one heart and one mind. Through him and through her Christ performed many great works."
In 1185, John de Courcy had her remains relocated in Down Cathedral. Today, Saint Brigid's skull can be found in the Church of St. John the Baptist in Lumiar, Portugal. The tomb in which it is kept bears the inscription, "Here in these three tombs lie the three Irish knights who brought the head of St. Brigid, Virgin, a native of Ireland, whose relic is preserved in this chapel. In memory of which, the officials of the Altar of the same Saint caused this to be done in January AD 1283."
A portion of the skull was relocated to St. Bridget's Church and another was sent to the Bishop of Lisbon in St. Brigid's church in Killester.
Saint Brigid's likeness is often depicted holding a reed cross, a crozier, or a lamp.