Saint of the Day Online - St Bernard of Clairvaux
Saint of the day online, Sunday, August 20, 2017
18-08-2017
---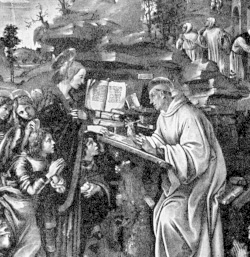 Saint Name: St Bernard of Clairvaux
Place: Fontaine-lès-Dijon, France
Birth:1090
Death:20 August 1153
Feast: August 20
St Bernard of Clairvaux, O.Cist (1090 – 20 August 1153) was a French abbot and the primary reformer of the Cistercian order.
Bernard's parents were Tescelin de Fontaine, Lord of Fontaine-lès-Dijon, and Alèthe de Montbard, both members of the highest nobility of Burgundy. Bernard was the third of seven children, six of whom were sons. At the age of nine years, he was sent to a school at Châtillon-sur-Seine run by the secular canons of Saint-Vorles. Bernard had a great taste for literature and devoted himself for some time to poetry. His success in his studies won the admiration of his teachers. He wanted to excel in literature in order to take up the study of the Bible. He had a special devotion to the Virgin Mary, and he would later write several works about the Queen of Heaven.
Bernard was only nineteen years of age when his mother died. During his youth, he did not escape trying temptations and around this time he thought of retiring from the world and living a life of solitude and prayer.
After the death of his mother, Bernard sought admission into the Cistercian order. "Three years later, he was sent to found a new abbey at an isolated clearing in a glen known as the Val D's absinthe, about 15 kilometers southeast of Bar-sur-Aube. According to tradition, Bernard founded the monastery on 25 June 1115, naming it Claire Vallée, which evolved into Clairvaux. There Bernard would preach an immediate faith, in which the intercessor was the Virgin Mary. In the year 1128, Bernard attended the Council of Troyes, at which he traced the outlines of the Rule of the Knights Templar, which soon became the ideal of Christian nobility.
After the Christian defeat at the Siege of Edessa, the pope commissioned Bernard to preach the Second Crusade. The last years of Bernard's life were saddened by the failure of the crusaders, the entire responsibility for which was thrown upon him. Bernard died at the age of 63, after 40 years as a monk. He was the first Cistercian placed on the calendar of saints and was canonized by Pope Alexander III on 18 January 1174. In 1830 Pope Pius VIII bestowed upon Bernard the title "Doctor of the Church".
Saint Bernard of Clairvaux's feast day is August 20th.