Saint of the Day Online - St Benignus of Armagh
Saint of the day online, Thursday, November 09, 2017
09-11-2017
---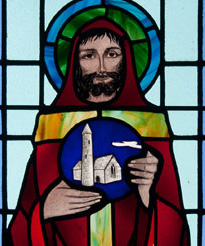 Saint Benignus of Armagh an Irish chieftain in that part of Ireland which is now County Meath was the son of Sesenen. He was baptised into the Christian faith by St. Patrick, and became his favourite disciple and his coadjutor in the Diocese of Armagh around AD 450. His gentle and lovable disposition suggested the name Benen, which has been Latinised as Benignus.
Benignus is said to have contributed materials for the "Psalter of Cashel", and the "Book of Rights". He succeeded St. Patrick's nephew Sechnall as coadjutor and became the first rector of the Cathedral School of Armagh.

He was present at the synod which passed the canon recognising "the See Of the Apostle Peter" as the final court of appeal in difficult cases, this canon is to be found in the Book of Armagh. St. Benignus resigned his coadjutorship in 467 and died at the close of the same year. His feast is celebrated on November 9.

In Easter 433, Patrick clashed with King Laoghaire at Tara over religion, and legend has it that a trial by fire was proposed. A pagan druid and Benignus were tied inside a burning timber building, the former was reduced to ash while Benignus was untouched, at this turning point Christian teaching was established.