Saint of the Day Online - St Anthony Mary Claret
Saint of the day online, Tuesday, October 24, 2017
24-10-2017
---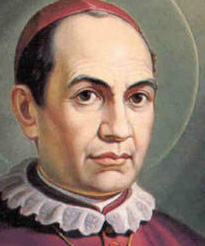 Saint Name: St Anthony Mary Claret
Place: Sallent, Barcelona, Spain
Birth: December 23, 1807
Death: October 24, 1870
Feast: October 24
St Anthony Mary Claret who was born on December 23, 1807 was a Spanish Roman Catholic archbishop and missionary, and was confessor of Isabella II of Spain. He founded the congregation of Missionary Sons of the Immaculate Heart of Mary, commonly called the Claretians.
Antoni Maria Claret i Clarà was born in Sallent, in the county of Bages in the Province of Barcelona, on December 23, 1807, the fifth of the eleven children of Juan and Josefa Claret. His father was a woollen manufacturer. As a child he enjoyed pilgrimages to the nearby Shrine of Our Lady of Fussimanya.

Claret received an elementary education in his native village, and at the age of twelve became a weaver. At the age of eighteen, he went to Barcelona to specialize in his trade, and remained there until he was 20 years old. Meanwhile, he devoted his spare time to study and became proficient in Latin, French and engraving.

Recognizing a call to religious life, he left Barcelona. He wished to become a Carthusian monk but finally entered the diocesan seminary at Vic in 1829, and was ordained on June 13, 1835, on the feast of St. Anthony of Padua. He received a benefice in his native parish, where he continued to study theology until 1839; but as missionary work strongly appealed to him, he proceeded to Rome. There he entered the Jesuit novitiate but had to leave due to ill health. He then returned to Spain and exercised his pastoral ministry in Viladrau and Girona, attracting notice by his efforts on behalf of the poor. In an area despoiled by the Carlist civil war, he added the practice of rustic medicine to his other endeavors.
From 1850 to 1857, Anthony served as the archbishop of Santiago de Cuba, Cuba. He returned to the court of Queen Isabella II as confessor, and went into exile with her in 1868. In 1869 and 1870, Anthony participated in the First Vatican Council. He died in the Cistercian monastery of Fontfroide in southern France on October 24, 1870. Anthony Mary Claret had the gift of prophecy and performed many miracles. He was opposed by the liberal forces of Spain and Cuba and endured many trials.
In 1869 he went to Rome to prepare for the First Vatican Council. Owing to failing health he withdrew to Prada de Conflent in the French Pyrenees, where he was still harassed by his Spanish enemies; shortly afterwards he retired to the Cistercian abbey at Fontfroide, Narbonne, southern France, where he died on October 24, 1870, aged 62.

His remains were buried in the Catalan city of Vic, in the Country of Osona.