Saint of the Day Online - St Albert the Great
Saint of the day online, Wednesday, November 15, 2017
15-11-2017
---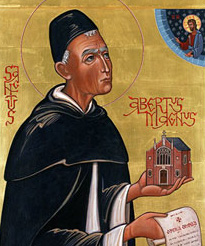 Saint Name: St Albert the Great
Place: Germany
Birth: 1200
Death: 1280
Feast: November 15
St Albert the Great was born in Lauingen on the Danube, near Ulm, Germany; his father was a military lord in the army of Emperor Frederick II. As a young man Albert studied at the University of Padua and there fell under the spell of Blessed Jordan of Saxony, the Dominican who made the rounds of the universities of Europe drawing the best young men of the universities into the Dominicans.

He was known as the "teacher of everything there is to know," was a scientist long before the age of science, was considered a wizard and magician in his own lifetime, and became the teacher and mentor of that other remarkable mind of his time, St. Thomas Aquinas.

Albert was very interested in Aristotle, and he made commentary on nearly all of Aristotle's works. He also studied the teachings of several Muslim scholars. At this time, the Islamic world led Europe in terms of scholarship, science, and medicine.

In 1254, Albert became the provincial of the Dominican Order. By all accounts, he was a capable and efficient administrator.

Five years later, in 1259, Albert participated in the General Chapter of the Dominicans along with Thomas Aquinas and several other contemporary leaders of the Order. They created a program of study for the Dominican order and developed a curriculum for philosophy. From this course of study would later arise the Pontifical University of Saint Thomas Aquinas, in Rome. Today, the university which is known as the "Angelicum," is one of the foremost theological colleges in the world. It is still run by the Dominican order.

In 1260, impressed with his acumen, Pope Alexander IV appointed Albert as bishop of Regensburg. Although he was a bishop, Albert refused to ride a horse and went everywhere on foot. This seemingly unusual practice was consistent with the rules of his order. The life of a bishop did not agree with Albert and he resigned from his post in 1263.

In that same year, Pope Urban IV accepted his resignation and reassigned him to preach about the Eighth Crusade to German-speaking people. The crusade was intended to recapture the city of Tunis in North Africa for Christendom, and was a total failure.

In his later years, Albert became renowned as a mediator. He mediated disputes between individuals as well as resolving a dispute between the people of Colonge and their bishop. He also founded Germany's oldest university in that city.

Before his death, he mourned the early passing of his great student, Thomas Aquinas, who would later be recognized as a saint and doctor of the Church. Aquinas died in 1274. Albert spent his last years defending the work of Aquinas which is among the most important work in the Church.

Albert became ill in 1278 and he died on November 15, 1280.