Saint of the Day Online - Saints Chrysanthus and Daria
Saint of the day online, Wednesday, October 25, 2017
25-10-2017
---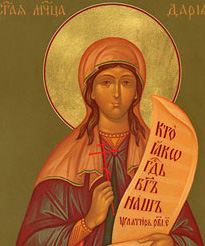 Saint Name: Saints Chrysanthus and Daria
Place: Rome, Roman Empire
Birth: 3rd century AD
Death: C.283
Feast: October 25
Saints Chrysanthus and Daria who were born in 3rd century are saints of the Early Christian period. Their names appear in the Martyrologium Hieronymianum, an early martyr's list, and a church was built in their honour over their reputed burial place in Rome.
There is very little known about them. Chrysanthus was an Egyptian, son of a Patrician, Polemius. He was brought to Rome from Alexandria during the reign of Numerian, and despite the objections of his father, who had brought him to Rome, was baptized by a priest named Carpophorus. Chrysanthus refused is father's attempts to get him married, finally married Daria, a Greek and a priestess of Minerva, converted her, and convinced her to live with him in chastity. When they converted a number of Romans, Chrysanthus was denounced as a Christian to Claudius, the tribune. Chrysanthus' attitude under torture so impressed Claudius that he and his wife, Hilaria, two sons, and seventy of his soldiers became Christians, whereupon the Emperor had them all killed.
Daria was sent to a brothel, where she was defended by a lion, brought before Numerian, who ordered her execution, and was stoned and then buried alive. When several followers of Daria and Chrysanthus were found praying at their crypt, among them Diodorus, a priest, and Marianus, a deacon, they were all entombed alive.
Numerian was not in Rome at the time of the martyrdom of Chrysanthus and Daria. The Romans would not have sent a Vestal virgin, who was supposed to be the keeper of Rome's fortunes and for whom it was imperative to remain a virgin, into a whorehouse. Scholar of early Christianity Candida Moss states "this simply could not have happened...whoever composed this story lived during a period when people no longer understood how important vestals were."
Their feast day is October 25.