Bible verses to overcome Coronavirus pandemic - Grace Ministry.
Powerful Bible Verses to overcome Coronavirus.
30-03-2020
---
Here is the list of powerful bible verses by Grace Ministry to overcome the fear of Coronavirus pandemic or Covid-19. Read and be blessed.
When the entire Global nations are affected by the Coronavirus, let's build and intensify our faith through these powerful Bible verses. Come let us uplift our prayers to the Lord.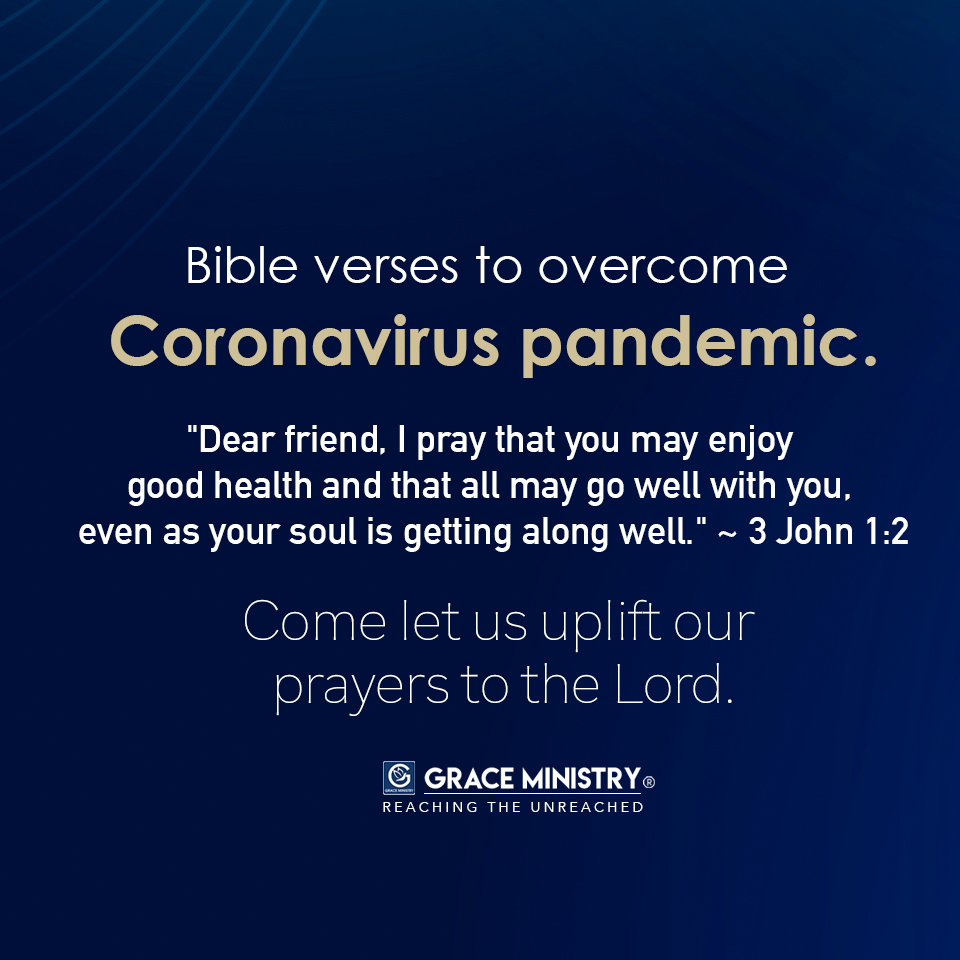 In these trying times, many are looking towards Christian scripture for comfort and answers. Read the below verses and restore your faith in the Lord.
"See now that I myself am he! There is no god besides me. I put to death and I bring to life, I have wounded and I will heal, and no one can deliver out of my hand." ~ Deuteronomy 32:39
"if my people, who are called by my name, will humble themselves and pray and seek my face and turn from their wicked ways, then I will hear from heaven, and I will forgive their sin and will heal their land. Now my eyes will be open and my ears attentive to the prayers offered in this place." ~ 2 Chronicles 7:14-15
You restored me to health and let me live. Surely it was for my benefit that I suffered such anguish. In your love you kept me from the pit of destruction; you have put all my sins behind your back." ~ Isaiah 38:16-17
"I have seen their ways, but I will heal them; I will guide them and restore comfort to Israel's mourners, creating praise on their lips. Peace, peace, to those far and near," says the LORD. "And I will heal them." ~ Isaiah 57:18-19
"Nevertheless, I will bring health and healing to it; I will heal my people and will let them enjoy abundant peace and security." ~ Jeremiah 33:6
"Dear friend, I pray that you may enjoy good health and that all may go well with you, even as your soul is getting along well." ~ 3 John 1:2
"And my God will meet all your needs according to the riches of his glory in Christ Jesus." ~ Philippians 4:19
"He will wipe every tear from their eyes. There will be no more death' or mourning or crying or pain, for the old order of things has passed away." ~ Revelations 21:4
---
Also Read:
Grace Ministry Prays for protection against Coronavirus outbreak
Prayers for Coronavirus outbreak by Grace Ministry.
A young girl from Mumbai stirs up Christian faith by her write-up on Coronavirus.
Important Video Message and Prayer concerning Coronavirus from Grace Ministry.