Tuesday Intercessory Prayer by Sis Hanna Richard in Prayer Center, Mangalore - Oct 30, 2018
Tuesday Intercessory Prayer
29-10-2018
---
Join the Intercessory prayer of Sis Hanna Richard at Prayer Center of Grace Ministry in Balmatta in Mangalore on Oct 30, 2018, at 10:30 AM. Come and be Blessed.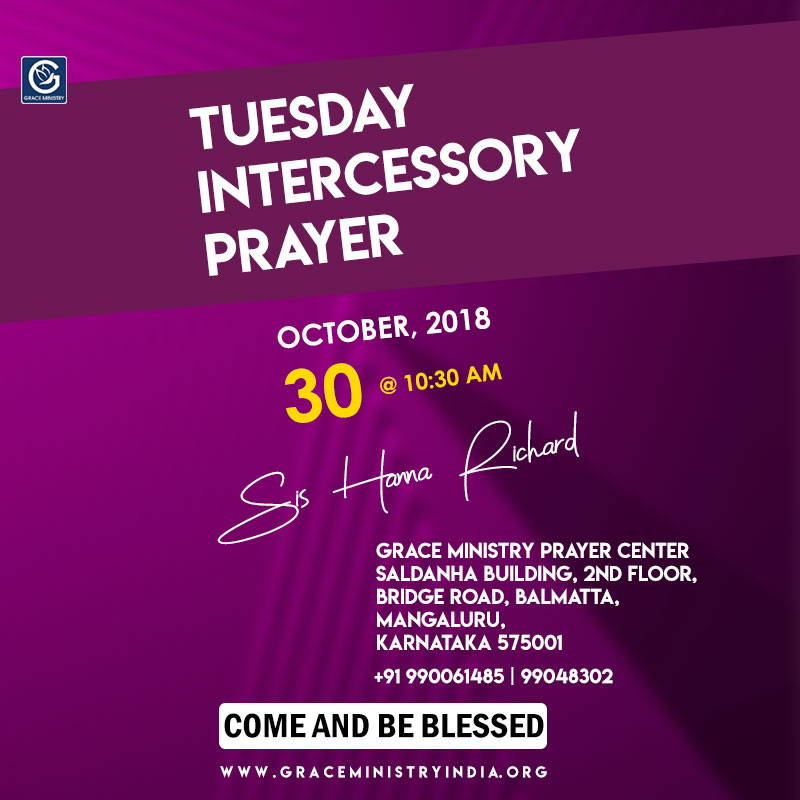 "You are my hiding place; you will protect me from trouble and surround me with songs of deliverance." Psalm 32:7
Expect to receive a new profound revelation of the Word as is it taught with clarity, simplicity, and a special emphasis on God's unconditional love and the balance between grace and faith!
So bring your family and friends. Sis Hanna's Word will change you and set you free. Many will be saved, filled with the Holy Spirit and healed. Special times of worship led by Bro Isaac Richard and Sis Hanna will uplift and encourage you. You'll be glad you were there!
Information:
Contact Details:
+91 9900611485 | 9900488302
Timings:
10:30 AM - 2:00 PM
Venue:
Grace Ministry Prayer Center,
Saldanha Building, 2nd Floor,
Opp to Juice Junction
Bridge Road, Balmatta,
Mangalore,
Karnataka - 575001