Join the New Year 2019 Prayer Service at Prayer Center, Mangalore.
New Year 2019 Prayer
30-12-2018
---
Join the New Year 2019 Prayer Service at the Prayer Center in Balmatta by Grace Ministry on Jan 1st from 10:30 AM to 5:00 PM. Join us to thank God for 2018, and enter the new year of 2019 with praise, prayer, sharing and renewing our faith in God. We will hear testimonies, praise God together and pray for one another.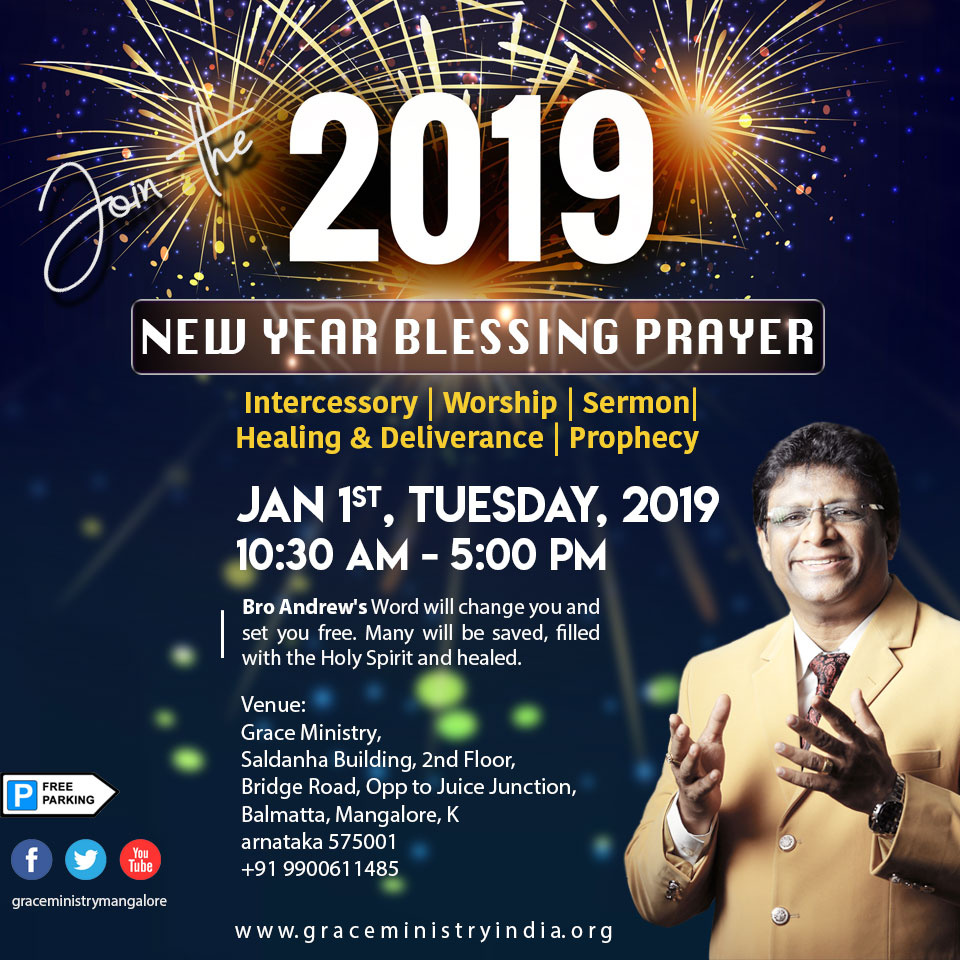 It's the middle of December. Most of us are up to our eyeballs in Christmas preparation while also preparing our hearts throughout our Advent journey. But I'd love to direct your attention toward the new year—just for a moment—to invite you to join us for the 2019 Prayer Pledge.
Every January, our Grace Ministry community comes together to dedicate the first month of the new year 2019 to prayer. As many of us formulate goals and articulate dreams for the new year, we link arms and encourage one another to put our relationship with the Lord at the very top of our list.
We're focusing our attention on praying for a deeper relationship with the Holy Spirit. It is He who will ultimately create an everlasting transformation in our hearts, lives, and world.
This is your opportunity to champion your faith, train for leadership, and become the leader God created you to be!
Schedule
Tuesday, January 1, 2019 at 10:30 a.m.- 5:00 p.m.
Speakers
Bro Andrew Richard
Translation:
Kannada - Konkani
For more information
Call (+91) 988-06-06-790