Join the Friday Fasting Prayer in Mangalore by Grace Ministry at Prayer Center. April 5th, 2019.
Friday Fasting Prayer
05-04-2019
---
Join the Friday Fasting Prayer at Balmatta Prayer Center of Grace Ministry in Mangalore on Friday, April 5th, 2019, at 10:30 AM. Come and be Blessed.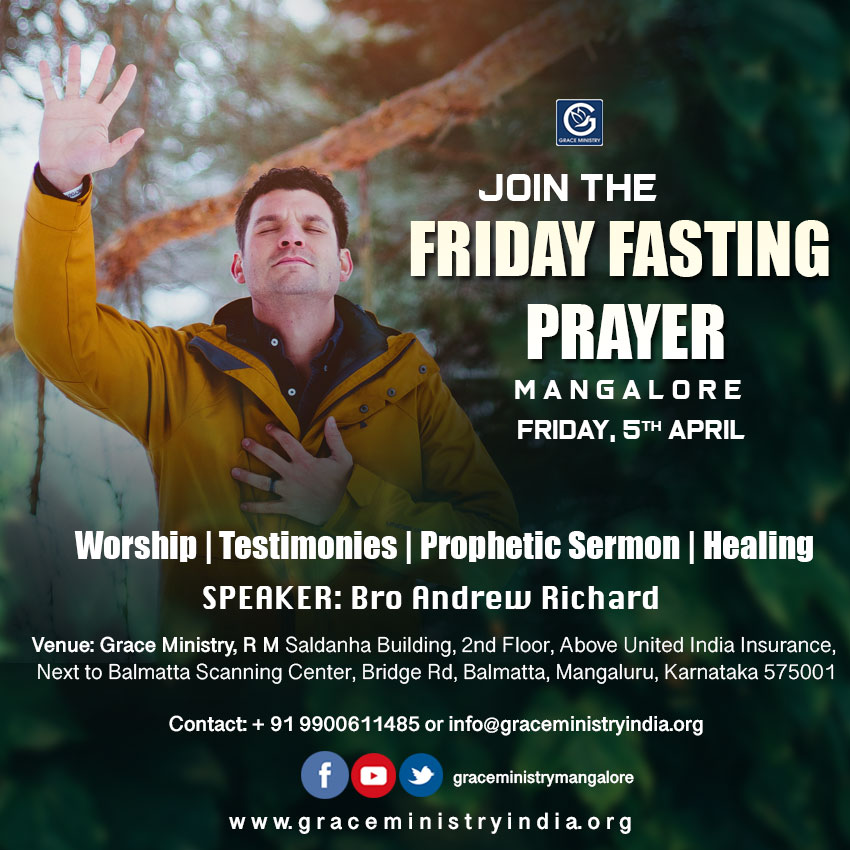 Our prayer is that our service is a source of blessing and encouragement to you. Our style of worship takes many forms; please feel free to join us in any manner you feel most comfortable. We believe that joy and praise are natural responses to God for His saving grace through our Lord Jesus Christ. We hope that you too would know Jesus as Lord and Friend.
So bring your family and friends. Bro Andrew's Word will change you and set you free. Many will be saved, filled with the Holy Spirit and healed. Special times of worship led by Bro Isaac Richard and Sis Hanna will uplift and encourage you. You'll be glad you were there!
Information:

Contact Details:

+91 9900611485

Timings:

10:30 AM - 2:00 PM

Venue:

Grace Ministry,
R M Saldanha Building, 2nd Floor,
Above United India Insurance,
Opp to Juice Junction
Bridge Road, Balmatta,
Mangalore,
Karnataka - 575001
Landmark: Near to Bharath Petrol Pump.