Join the Friday Blessing Prayer Retreat on Dec 7, 2018 at Prayer Center, Mangalore
Join the Friday Blessing Prayer Retreat
06-12-2018
---
Join the Friday Blessing Prayer Retreat organised by Grace Ministry on 7th, December 2018 at 10:30 AM at the Balmatta Prayer Center, Mangalore. You're sure to be blessed.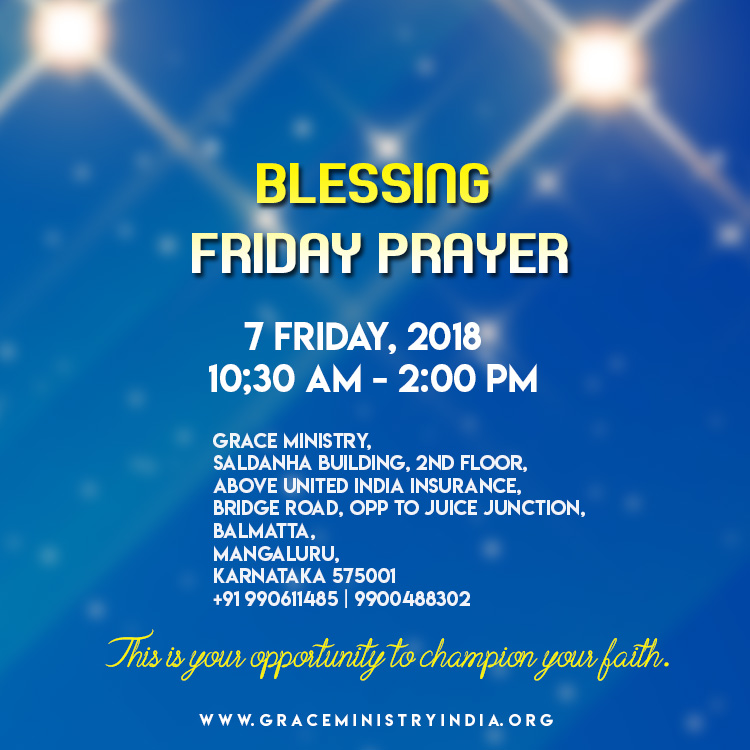 You're sure to be blessed by Bro Andrew's revelation and ministry. You'll also experience powerful praise and worship by Bro Isaac Richard. You'll gain a deeper revelation of God, His love for you, and His ability to deliver on the promises He has made. You will never be the same!
This is your opportunity to champion your faith, train for leadership, and become the leader God created you to be!
Schedule
Tuesday, December 7, 2018 at 10:30 a.m - 2:00 p.m.
Speakers
Bro Andrew Ricahrd
For more informatio
Call (+91) 988-06-06-790