Good Friday - Mediation of the Cross by Grace Ministry in Mangalore 2019.
Good Friday 2019
17-04-2019
---
Join the Good Friday Prayer Service by Grace Ministry on 19th Friday, April 2019 at Balmatta Prayer Center, Mangalore. Come to Meditate the Cross and all that Jesus did on the cross of Calvery.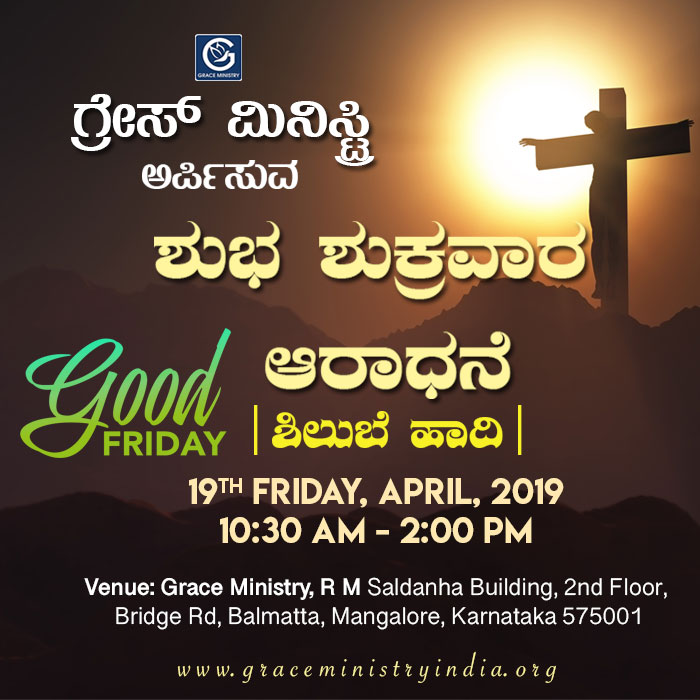 Christ himself bore our sins in his body on the tree.
That we might die to sin and live to righteousness.
Let us pray.
The following or Good Friday (UMH 284) is said:
Almighty God,
your Son Jesus Christ was lifted high upon the cross
so that he might draw the whole world to himself.
Grant that we, who glory in this death for our salvation,
may also glory in his call to take up our cross and follow him;
through Jesus Christ our Lord. Amen.
Information:

Contact Details:

+91 9900611485

Timings:

10:30 AM - 2:00 PM

Venue:

Grace Ministry,
R M Saldanha Building, 2nd Floor,
Above United India Insurance,
Opp to Juice Junction
Bridge Road, Balmatta,
Mangalore,
Karnataka - 575001
Landmark: Near to Bharath Petrol Pump.