Bro Andrew Richard Daily Devotion - He is Able to do Exceedingly Abundantly
Daily Devotion - He is Able to do Exceedingly Abundantly
21-07-2022
---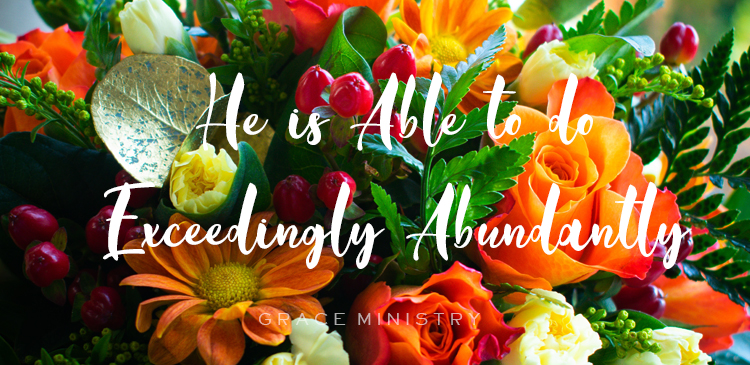 Ephesians 3:20-21
"Now to Him who is able to do exceedingly abundantly above all that we ask or think, according to the power that works in us, to Him be glory in the church by Christ Jesus to all generations, forever and ever. Amen."

Ephesians 3 talks about the prayer paul praying for believers in Ephesus. Here Paul is invoking the image of God as Father.

What does Paul ask of God for these believers?

There are two requests. First, he asks God to strengthen them with the power of the Spirit. Paul hopes that as the reality of spiritual power grips them, their resolve to maintain faith in Christ will grow, for they will realize that Christ is all they need for salvation. Second, he prays that they will be empowered to grasp the extent of that love by which they have been saved and made secure.

To those who feel that Paul's estimate of God's purpose for citizens of the new community is unrealistic, the apostle offers the benediction of 3:20-21.
Here Paul describes God as a "God that is able to do exceedingly abundantly above all that we ask or think".
There is an inexhaustible fulness of grace and mercy in God, which the prayers of all the saints can never draw dry. God can do immeasurably more than anything and everything one can ask or even imagine. Divine power is at work in God's people to bring them to divine fullness.

Having thus described God, he ascribes glory to Him. When we come to ask for grace from God, we ought to give glory to God. Unto Him be glory in the church by Christ Jesus. In ascribing glory to God, we ascribe all excellences and perfections to Him, glory being the splendor and result of them all. Thus God is glorified in the community of redeemed persons in whom the Spirit is at work.

He is our Abba Father, whose love is beyond comprehension. We can surely confess that our God thinks more about us than we ourselves. He shall supply all our needs according to His riches in Glory. His plan is to fill us with everlasting hope no matter what is happening around us. As a child of God, our confidence should be that the pandemic, sickness, financial troubles, loss of near and dear ones, loss of job, etc don't decide our future, our Father does. It is not done until God says it is done. He is the lifter of our head. So let's be encouraged.
Written By: Bro Andrew Richard