About Sis Hanna Richard
Sis Hanna Richard
---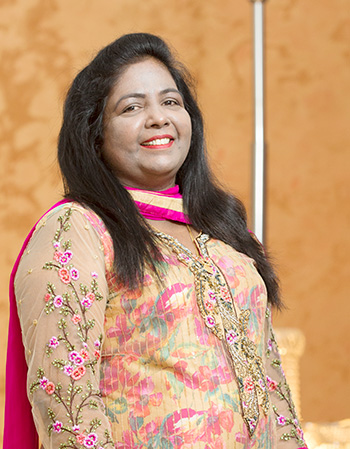 Amiable and Noble Woman Sis Hanna Richard began her role as a supportive wife to Bro Andrew Richard on 6th May 1996. Sis Hanna is committed to helping women, Downtrodden and the oldsters find their purpose and reach their highest ptential in Jesus.
Sis Hanna Richard was a perfect gift and treasure according to God's plan in the life of Bro Andrew Richard. Today, she stands as a prophetic servant of God before thousands of people bringing God's mighty presence and power through prayer.
She ministers in all the key Grace Ministry retreats meetings and especially to the families and women through the Women Retreats.
Today, many are witnessing mighty miracles and deliverance from bondage and sickness in her ministry. Many who have been oppressed from the evil spirit are delivered during her prayer time. Young men and women open their hearts to Jesus in their lives. Broken families are united. People open their hearts to Jesus in their lives hearing her messages.

Sis Hanna operates the "Special Individual prayer" on every Tuesdays and people throng to her prayers in large numbers, it's an individual prayer where the Lord reveals and keeps updating her about each person regarding their lives.
A countless number of people has experienced the power and the touch of God and the testimonies regarding her prayers are just astonishing.
God has blessed her and Bro Andrew Richard with two lovely children Isaac and Moses who in the footsteps of their parents stand in front of thousands and bring glory to God through their singing and worship even from their childhood days. Now, Isaac reaches the youngsters with his clarity message and songs. Moses with his songs and stories has captured hearts of many children and elders as well.
Sis Hanna is also known for extending a hand of help to the needy, the heart of compassion to the hurting, To know more about her services visit our ESTHER MINISTRY page.